7 Medical-Grade Supplies that Every Household Should Have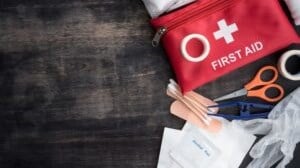 If we've learned anything this year, it's that we need to take care of our health more than ever before. Regardless of your age, one of the best ways to do this is to make sure that your home is well equipped in case of a medical emergency. Whether a minor scrape, sprain, bacterial infection, flu or otherwise, you can never be too prepared. We asked 5 health experts about the key medical supplies every household should have and this is what they said:
Medical Thermometer
Jocelyn Nadua, Registered Practical Nurse and Care Coordinator at C-Care Health Services suggests keeping a medical thermometer in your home as a first step.
"A medical thermometer is a handy and useful medical instrument to have in your home. It is the most suitable tool when measuring our body temperature. It can help when having a virtual appointment with your doctor, who can easily recommend the most appropriate medicine based on the results provided".
At AshconMed, we offer a variety of contactless/infrared thermometers. These are a great way to quickly identify fevers and related health concerns.
Emergency Blankets
Nadua also mentions the importance of having emergency blankets on hand:
"Another thing to consider having are emergency blankets for hypothermia and shock. It can keep someone who has been exposed to cold weather warm by limiting heat loss and blocking them from the wind. Also, when someone is traumatized, a blanket can be useful to limit the effect of shock they've experienced".
The effect of a blanket is maximized when they are kept warm. At AshconMed, we have a variety of blanket warmers to provide ultimate comfort to patients in need. They can also warm a variety of other supplies, such as intravenous and injection fluids, irrigation solutions and more.
Saline and Vitamin B12 Drip
Sarah Johnson, Counselor and Health Ambassador at Family Assets provides a list of must-have home medical supplies for seniors specifically.
"Those who provide home care for people know that there are certain medical supplies that should always be handy should a senior require pre-medical treatment. These are things that every household should have and include a saline/vitamin B12 drip and IV; a course of a general antibiotic like amoxicillin or tetracycline to fight bacterial infections in the event of an emergency or catastrophe, and a medical-grade splint for broken bones.
"A saline and vitamin B12 drip can be easily purchased online or from a local medical supply store and could be a life-saver in a catastrophe or emergency where medical treatment is unavailable and a person is severely dehydrated. The same can be said for a backup course of general antibiotics."
If you're looking for an IV pole or stool, we carry a variety of IV poles and stools in our online store. Regardless of your needs, we can create and deliver customized IV poles that cater to your exact needs.
Medical-Grade Splint
Johnson further explains the benefits of medical-grade splints:
"It is also easy to pick up a medical-grade splint or two. They are inexpensive and properly splinting a broken bone, especially if professional medical care is not readily available, can greatly help to manage pain and protect against further injury."
Should you be faced with a sprain or broken bone, a medical-grade splint is an excellent first line of defence before you're able to seek professional care. Taking this initial step is a simple way to prevent further damage and remain comfortable.
First Aid Kit
Benjamin Todd Thatcher, CMO of Highlands Spring Clinic explains the importance of keeping a first aid kit at home and the medical-grade supplies that such kit should include:
"Every household should have a medical supply kit at home in case of an emergency. They might be able to stabilize the person before seeking further help in the hospital.
"Examples of some of these medical-grade supplies include a first aid kit (bandages, antibiotics, thermometer, burn gel, iodine pad, CPR mask, instant cold pack, tourniquet), pain relief (Aspirin or Tylenol), antihistamines (for allergies and insect bites), oral rehydration salts in case of diarrhea, and antacids to reduce stomach pain. Having all this and also having a bit of knowledge about when to use them will go along way in saving more lives."
At AshconMed, we want to help you supply your first aid kit with our high-quality medical supplies. Next time you need to restock your first aid supplies, be sure to check out our large online inventory.
Eyewash
When we think of medical supplies, eyewash is often overlooked. Benjamin H. Ticho, MD at Ticho Eye Associates emphasizes the importance of eye care:
"Don't forget the eyewash! Eye injuries, whether chemical (hairspray, liquid food items, etc.) or mechanical, are quite common. Having something handy to wash out the ocular surface should be on everyone's home medical supply list. If you can't find standard eyewash, contact lens solution works perfectly well, as does artificial tear drops, though those bottles tend to be a little small."
Stocking your medicine cabinet with items as simple as eyewash or contact solution can make the biggest difference should you face an eye injury. This is an extra measure you can take to ensure you are as prepared as possible.
Humidifier
Naomi Cassidy, Marketing Manager at Condair in North America explains the positive impact that a humidifier can have on your health.
"Every household should invest in a humidifier to maintain the optimum humidity levels that will help improve one's health while enhancing comfort in their homes. Having low humidity levels in the home can increase the chances of spreading viruses and airborne bacteria. Keep in mind, whenever an infected person coughs or sneezes, they release aerosolized droplets that contain elements such as germs and viruses that remain airborne for hours. If the air in the room is below a certain Relative Humidity (RH) level, it enables such elements to remain infectious for a more extended period, increasing the potential risk of secondary infection such as COVID-19. Other reasons you should invest in a humidifier include soothing your sinuses, protecting your eyes, throat, and skin from dry air, and protecting your furniture as well as your artwork."
Since we spend so much time indoors, a home humidifier is a great way to protect your overall health. Whether preventing the spread of airborne viruses or protecting your eyes, nose and throat, a humidifier is a worthwhile investment.
All of the supplies mentioned above can go a long way in the event of an emergency. Regardless of your age, having these supplies at home can make all the difference in relieving pain, keeping sickness at bay, and healing wounds or broken bones. At AshconMed, we are happy to help you build your at-home medical supplies kit! We provide a wide range of useful medical supplies such as thermometers, blanket warmers, IV poles, and more! Reach out to our team today to learn more.
RECENT POSTS
CATEGORIES
ARCHIVES
SERVICES
Take Our Online Cataract Self-Test
Find the Perfect Frames for You