Contact Lenses and Eyeglasses
At Ticho Eye Associates, we offer comprehensive ocular examinations for the diagnosis and treatment of common vision problems, including nearsightedness (myopia), farsightedness (hyperopia), astigmatism, and age-related vision loss (presbyopia). These refractive errors are treated with glasses and/or contact lenses, and occasionally refractive surgery. Our optical center offers a large selection of designer frames to fit every budget. We will help you achieve optimal vision through high-quality eyewear that not only is comfortable but also complements your unique style. Reach out to any of our three locations in Chicago Ridge, IL, Tinley Park, IL, and Munster, IN for our optical center's hours or to book an appointment.
Nearsightedness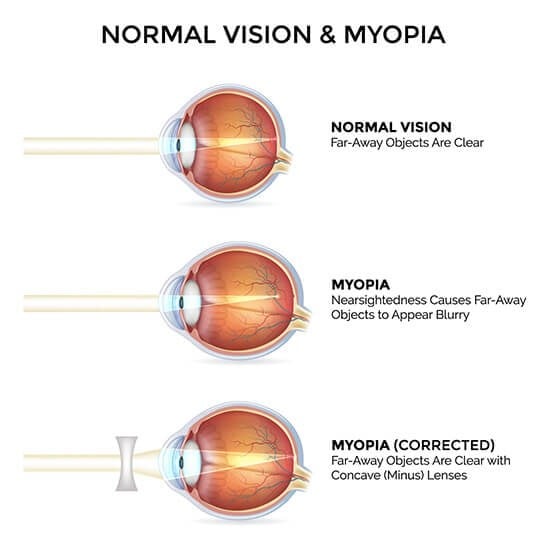 Farsightedness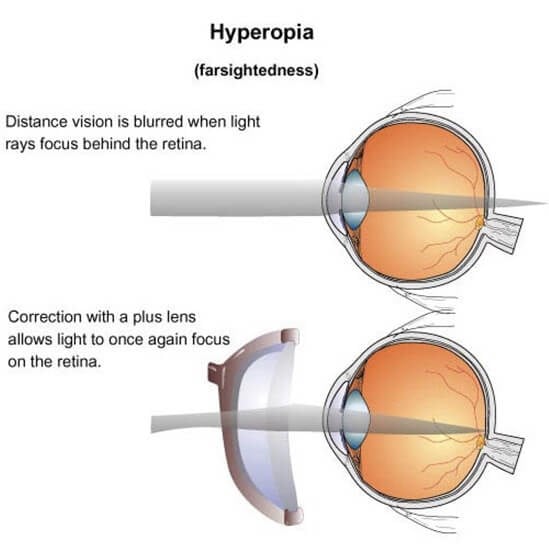 Astigmatism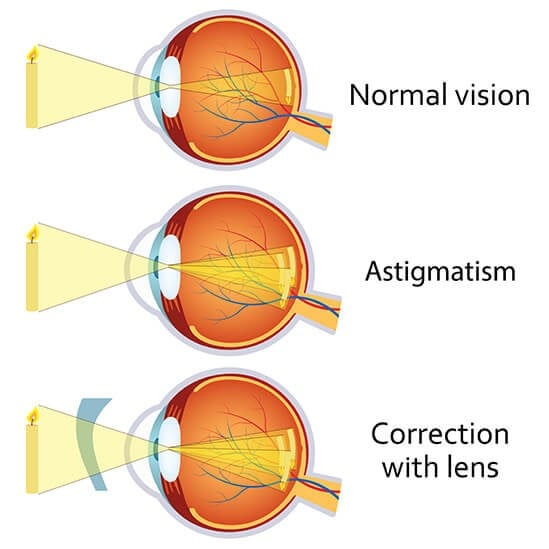 Contact Lenses and Eyeglasses Reviews
"Took great care of my daughter.  New prescription glasses were delivered ahead of time.  Very patient staff."
- V.M. /
Yelp /
Aug 12, 2020
"Dr. Ticho helped restore my vision. I no longer need glasses, only for reading small print. He is very patient & will explain everything he is doing."
- Anonymous /
Healthgrades /
Oct 20, 2020
"Having cataract surgery has changed my life tremendously! I feel younger and I am not insecure when I am walking or excercising. Since I have had eye surgery I have gained confidence to start my own business. This surgery is completely life changing for me! I thank God; I thank Dr. Ticho and his staff for the professionalism that they have shown me. Most of all I have 20/20 vision without glasses!"
- B.W. /
Google /
Mar 16, 2021
"The experience I had at Dr.Ticho's Office was incredible. From the time I walked in at the reception desk to Dr. Ticho's assistant and his personal care then on to the Eye Care Center where I purchased a new pair of Flexon glasses. Everyone there are so helpful and curtious. Comforting to be in great dependable hands."
- P.L. /
Google /
Apr 10, 2020
"Very nice staff from start to finish. Dr. Ticho very nice and explained everything in detail. Steadily busy office but well organized, and did not wait a long time. Their optical has a great selection of glasses and also had a petite section. Found my glasses within 5 mins. Highly recommend."
- T.C. /
Google /
Aug 14, 2021
Previous
Next
selecting your glasses and contact lenses
After a thorough eye exam, our optical team will guide you through all your glasses and contact lens options. Each optician is professionally trained and certified to help you select the frame style, shape, and size to suit your lifestyle, activity needs, and your facial structure — as well as your individual tastes. When contact lens use is appropriate, we will review all the choices — gas permeable (hard) vs. soft lenses, extended wear vs. daily disposable, clear vs. colored — to match your particular needs. Call Ticho Eye Associates in Chicago Ridge, IL, Tinley Park, IL, and Munster, IN for optical center hours or to schedule an appointment.
A full-service optical center is available in each of Ticho Eye Associates's three locations. Even if you are not currently a Ticho Eye Associates patient, we are happy to repair eyeglasses as well as get you fitted for and order new glasses or contact lenses. Simply bring your prescription with you to one of the locations in Chicago Ridge, IL, Tinley Park, IL, and Munster, IN.
Special Attention for Your Special Eyes
The optometry specialists at Ticho Eye Associates have extensive experience with unusual and challenging contact lens situations. We offer an array of specialty, therapeutic, and custom contact lens evaluations and fittings at all three offices in Chicago Ridge, IL, Tinley Park, IL, and Munster, IN.
We are pleased to offer contact lenses for a variety of patient needs, including:
Monovision

High astigmatism

Multifocal

Keratoconus

Irregular and post-traumatic corneas

Large diameter gas permeable(12-18mm)

Post-surgical
Certain vision problems, like nearsightedness, farsightedness, and age-related vision loss, can cause a lot of frustration. Thankfully, with prescription glasses and contacts, you can achieve clearer, healthier vision. Call Ticho Eye Associates in Chicago Ridge, IL, Tinley Park, IL, or Munster, IN today to schedule an appointment. We have a wide selection of glasses and contacts to choose from for the whole family.
Related Procedures
Related Posts