Contact Lenses and Eyeglasses
At Ticho Eye Associates, we offer comprehensive ocular examinations for the diagnosis and treatment of common vision problems, including nearsightedness (myopia), farsightedness (hyperopia), astigmatism, and age-related vision loss (presbyopia). These refractive errors are treated with glasses and/or contact lenses, and occasionally refractive surgery. Our optical center offers a large selection of designer frames to fit every budget. We will help you achieve optimal vision through high-quality eyewear that not only is comfortable but also complements your unique style. Reach out to any of our three locations in Chicago Ridge, IL, Tinley Park, IL, and Munster, IN for our optical center's hours or to book an appointment.
Nearsightedness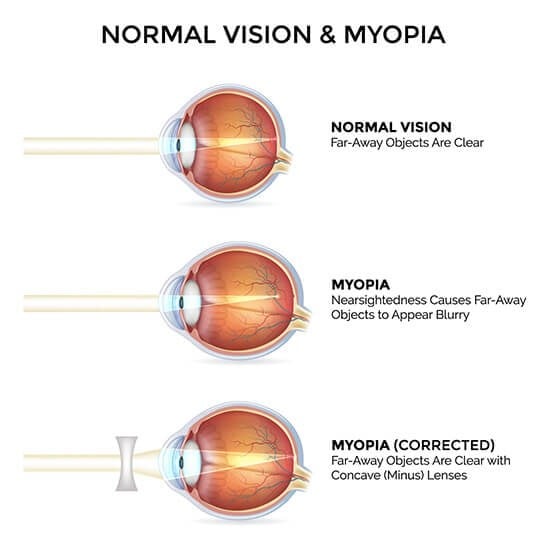 Farsightedness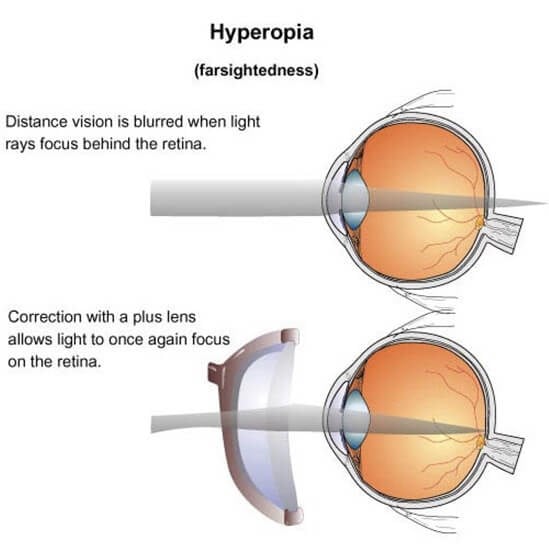 Astigmatism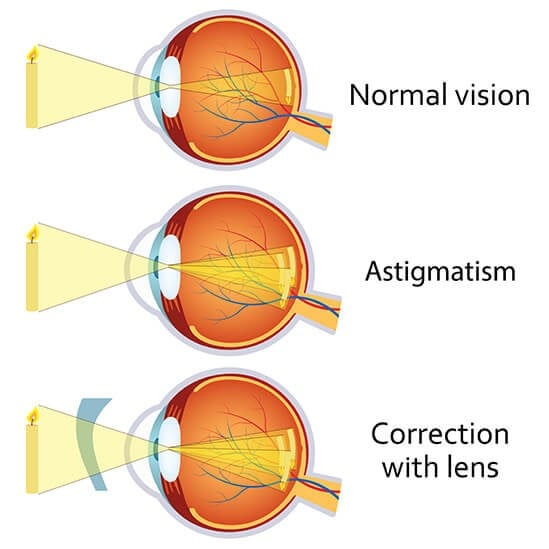 Contact Lenses and Eyeglasses Reviews
"Just picked up my newest prescription glasses from Ticho's Optical department and, needless to say, the glasses are perfect. The staff there helped me so much in choosing a new frame --- they listened to my needs as well as my preferences and ultimately I got the best frame that fits perfectly. I was also pleasantly surprised that the glasses came in so fast --- I was expecting to wait 2 - 3 weeks but they came in 9 DAYS later! I picked them up this morning, had a final adjustment in the frames and I'm a Happy Camper!"
- S.M. /
Yelp /
Aug 17, 2023
"Ticho Eye Associates Is An Absolute MUST!! I Would Recommend This Place To Anyone, Especially New Patients. I Was A Little Worried About My Daughters First Visit And Walked Away So Very Happy That I Called And Made The Appointment. The Optical Department Staff Was Amazing! I Had Gotten Help From Maria And She Was Extremely Thorough And Professional. My Daughter Was Self Conscious About Wearing Glasses At First, But Maria Made Her Feel Comfortable And Was Able To Pick Out The Perfect Pair. Thank You So Much!"
- M.J. /
Yelp /
Aug 16, 2023
"It was my first time going to this specialist and it was a great experience. Maria was very helpful and honest when picking out my glasses, which I appreciated. The exam was quick and still felt like the doctor and technicians listened to what my issues were. Will definitely come back."
- A.K. /
Google /
Aug 21, 2023
"I have taken my now one year old to Dr Ticho for a blocked tear duct and now for glasses. He is so kind, professional and so great at explaining everything. He makes first time moms feel like it's GOING TO BE OKAY and that's the best feeling in the world. His ENTIRE staff is kind, polite, and flexible. I feel so comfortable going to Dr Ticho and would recommend to anyone ! Thank you Dr Ticho and staff!"
- M.W. /
Google /
Aug 28, 2023
"Wonderful they were able to diagnose my 2 year old daughter's exotropia and get her the glasses she needed. They were kind and very kid friendly."
- R.S. /
Google /
Aug 31, 2023
Previous
Next
selecting your glasses and contact lenses
After a thorough eye exam, our optical team will guide you through all your glasses and contact lens options. Each optician is professionally trained and certified to help you select the frame style, shape, and size to suit your lifestyle, activity needs, and your facial structure — as well as your individual tastes. When contact lens use is appropriate, we will review all the choices — gas permeable (hard) vs. soft lenses, extended wear vs. daily disposable, clear vs. colored — to match your particular needs. Call Ticho Eye Associates in Chicago Ridge, IL, Tinley Park, IL, and Munster, IN for optical center hours or to schedule an appointment.
A full-service optical center is available in each of Ticho Eye Associates's three locations. Even if you are not currently a Ticho Eye Associates patient, we are happy to repair eyeglasses as well as get you fitted for and order new glasses or contact lenses. Simply bring your prescription with you to one of the locations in Chicago Ridge, IL, Tinley Park, IL, and Munster, IN.
Special Attention for Your Special Eyes
The optometry specialists at Ticho Eye Associates have extensive experience with unusual and challenging contact lens situations. We offer an array of specialty, therapeutic, and custom contact lens evaluations and fittings at all three offices in Chicago Ridge, IL, Tinley Park, IL, and Munster, IN.
We are pleased to offer contact lenses for a variety of patient needs, including:
Monovision

High astigmatism

Multifocal

Keratoconus

Irregular and post-traumatic corneas

Large diameter gas permeable(12-18mm)

Post-surgical
Contact Lenses and Eyeglasses FAQs
How often should I replace my vision assistance devices?
Contacts lenses and glasses might need to be replaced at varying rates. You should maintain an annual exam to ensure that your prescription is valid. Contacts come in a variety of lengths, from daily to monthly, while glasses may need to be replaced as little as every couple of years (assuming no changes in vision).
How long can I wear contacts for?
On a daily basis, you should be able to tolerate your contact lenses for 12 — 14 hours. If your eyes feel dry or irritated from repeated contact use, please tell your provider at Ticho Eye Associates. Contacts come in a variety of compositions to allow for different eye types and tolerances.
How often should I renew my prescription?
We recommend being in the routine of having an eyeglass and contact once a year. If you wear contacts, you will need to have an updated prescription from within the last year in order to purchase more. At your annual exam, we can also perform routine screenings to ensure your eye health.
Certain vision problems, like nearsightedness, farsightedness, and age-related vision loss, can cause a lot of frustration. Thankfully, with prescription glasses and contacts, you can achieve clearer, healthier vision. Call Ticho Eye Associates in Chicago Ridge, IL, Tinley Park, IL, or Munster, IN today to schedule an appointment. We have a wide selection of glasses and contacts to choose from for the whole family.
Related Procedures
Related Posts