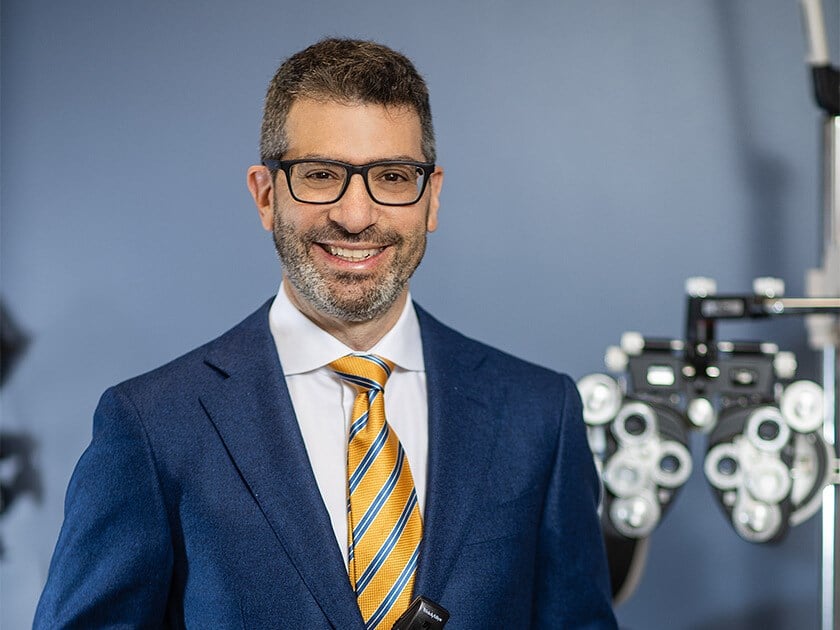 Dr. Benjamin Ticho is an ophthalmologist who specializes in general and pediatric ophthalmology and has been serving the Chicago Metro area for over 30 years. He is board certified in ophthalmology by the American Board of Ophthalmology and is the owner of Ticho Eye Associates. He has won numerous awards for his work including Top Doctor Chicago Magazine 2021 and was featured in West Suburban Living magazine in 2014. He has also taught hundreds of ophthalmologists and medical students across the country, educating them on the latest techniques and technologies in ophthalmic care.
As a highly trained ophthalmologist, Dr. Ticho specializes in the diagnosis and treatment of disorders that affect the eyes and vision. He is well-versed in the complex anatomy of the eye and is skilled in performing surgical and nonsurgical ophthalmic procedures. His particular areas of expertise are in pediatric ophthalmology and strabismus. He is also skilled in treating conditions, such as cataracts, glaucoma, refractive errors, amblyopia, eye infections, diabetic retinopathy, and retinal disorders. In addition, he provides specialty eye care for patients with Down syndrome.
Dr. Ticho graduated from the University of Michigan Medical School in Ann Arbor, MI. From there, he completed an integrated surgical-medical internship at Virginia Mason Medical Center in Seattle, WA. He then served his residency in ophthalmology at Illinois Eye and Ear Infirmary (IEEI) at UI Health in Chicago, IL. Following his residency, he completed a fellowship in pediatric ophthalmology at the Children's Memorial Hospital and specialty training in adult strabismus at Northwestern Memorial Hospital in Chicago, IL.
Leadership and Publications
Dr. Ticho has contributed greatly to the field of pediatric ophthalmology and adult strabismus, publishing over 100 medical-based articles. He has also spoken at national and international ophthalmic conferences, earning wide recognition for his work. His expertise has earned him notable positions, such as serving on the Board of Directors of the prestigious Pediatric Eye Disease and Investigator Group (PEDIG) and associate professor at the University of Illinois.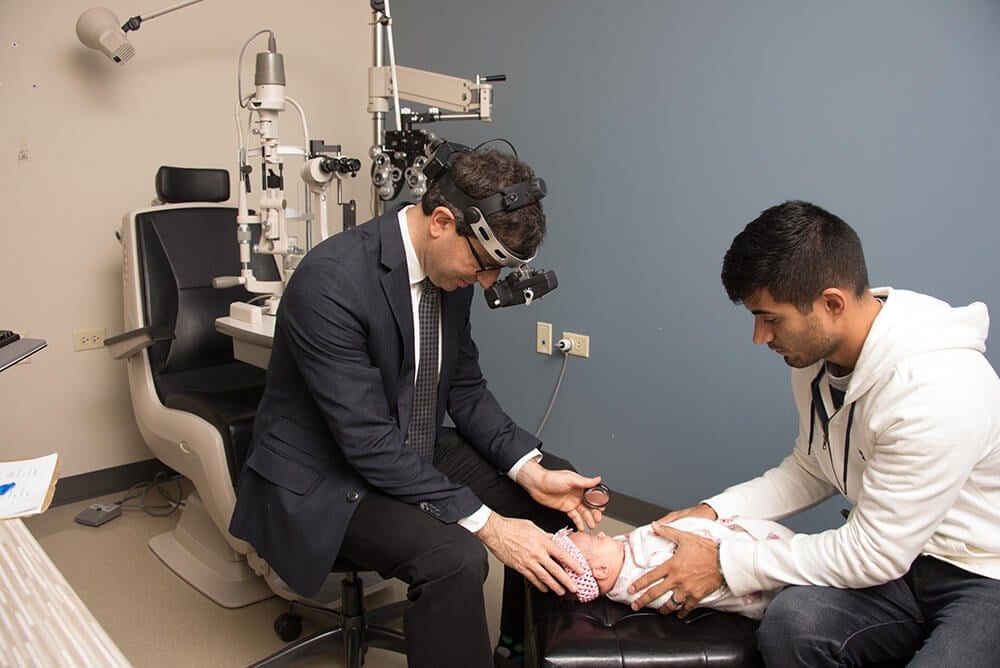 Dr. Ticho has earned the following decorations:
Top Doctor – Chicago Metro Area by Castle Connolly, 2000 – 2019
Compassionate Doctor Recognition by Vitals, 2010 – 2012, 2014 – 2016, 2018
Patients' Choice Award by Vitals, 2008 – 2012, 2014, 2018
Patients' Choice 5th Anniversary Award by Vitals, 2012
Patients' Choice Award by MDx Medical, 2010
Honor Roll by Healthgrades
Top Doctor for Kids & Moms
Top Doctor Chicago Magazine 2021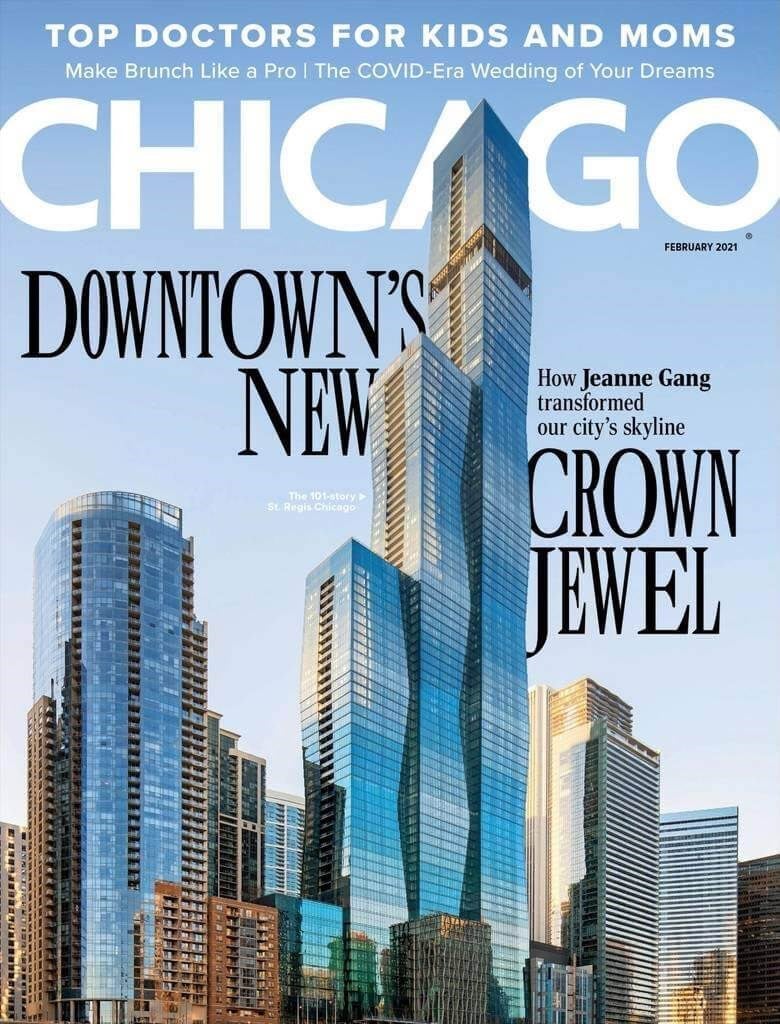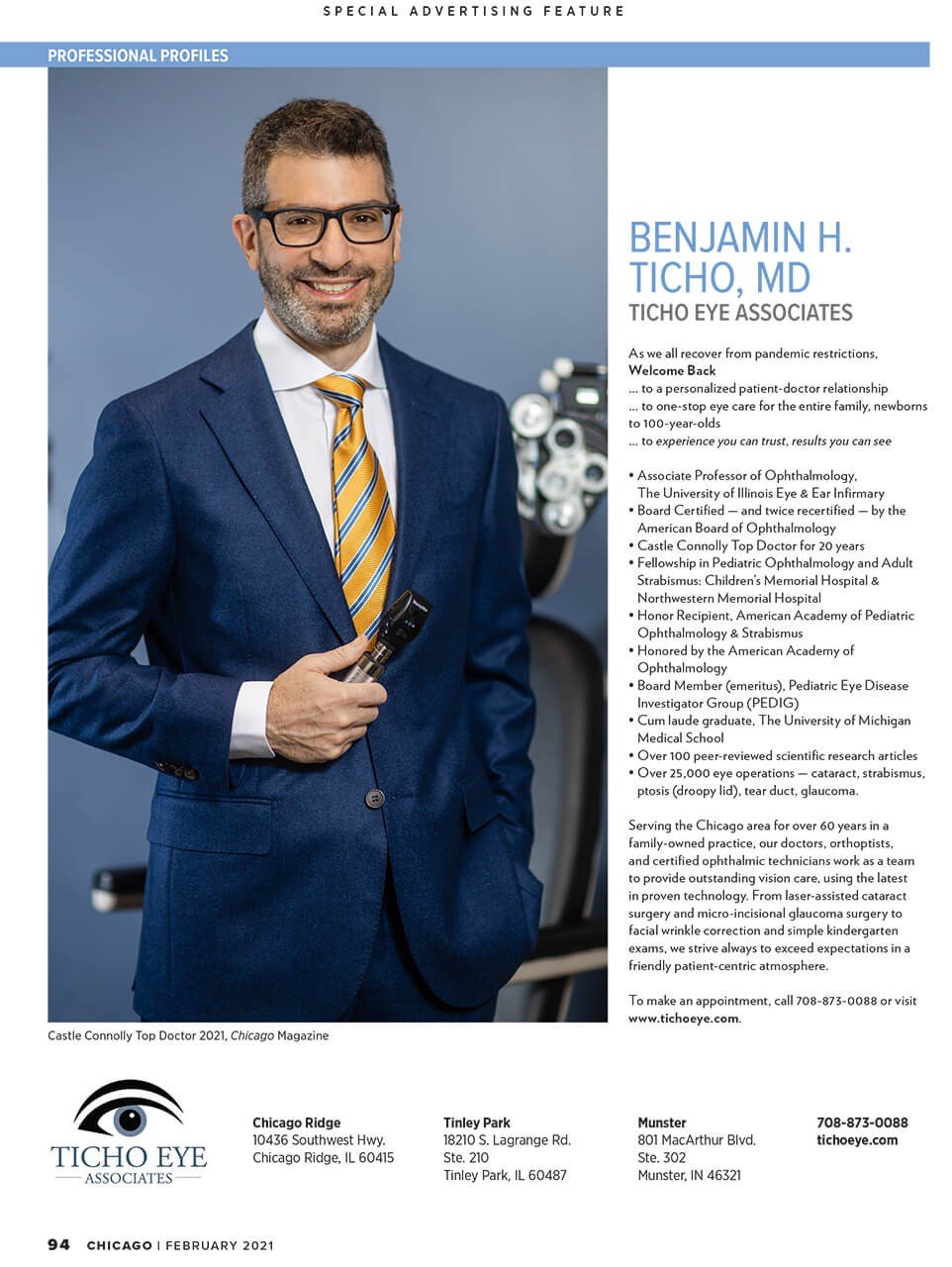 Dr. Ticho is affiliated with the following organizations:
American Academy of Ophthalmology (AAO)
American Academy of Pediatrics (AAP)
American Association for Pediatric Ophthalmology and Strabismus (AAPOS)
American Society of Ophthalmic Plastic and Reconstructive Surgery (ASOPRS)
American Society of Ophthalmic Administrators (ASOA)
Chicago Ophthalmologic Society
Chicago Medical Society
Illinois State Medical Society
Reviews
"Nice place, good doctors, great service. Very patient and considerate and took the time to answer all my questions."
J.S.
Yelp
"Dr. Ticho and his staff are caring professionals! My wait time was short, I was added in due to an emergent eye issue, The doctor spent plenty of time explaining what my diagnosis was, the staff was extremely helpful, my prescription was ready before I got home, today t was seamless start to finish. I've been a patient for more than five years, my entire family sees the doctor, always a positive experience."
A.G.
Yelp
"I was contacted by the office and they have send us the goggles free of charge. Thank you."
J.B.
Yelp
"They are the best.  I have been bringing my son here for years.  The service is friendly and efficient.  Recently (last two years) I have taken them on as my primary eye care provider and have been nothing less than satisfied.  Some key points - SEVERAL LOCATIONS,  TECHNICALLY ADVANCED,  FRIENDLY STAFF,  EFFICIENT SERVICE.  Trust me you won't be disappointed"
M.C.
Yelp
"Took great care of my daughter.  New prescription glasses were delivered ahead of time.  Very patient staff."
V.M.
Yelp
Related Posts