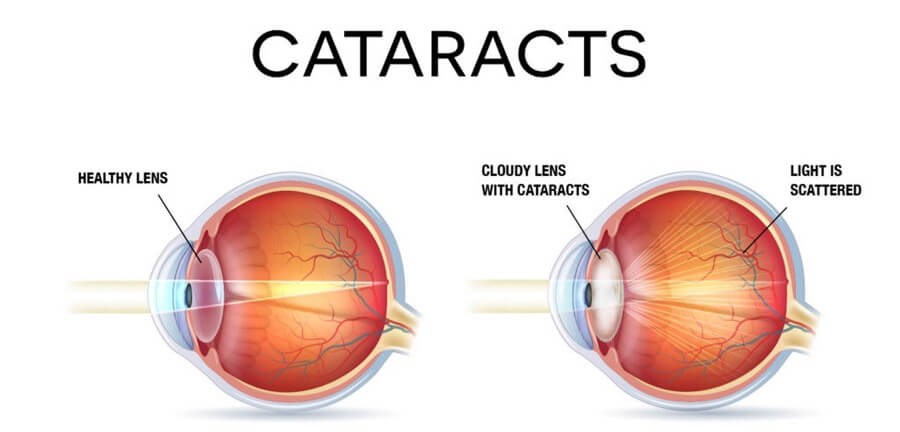 A cataract is a clouding of the eye's lens. This is a common phenomenon that occurs with advanced age. Over time, the proteins within the eye's lens start to degrade or clump together. This creates a fogging of the eye's natural lens, making it difficult for light to pass through and focus on the retina. The result is blurry or impaired vision. If left untreated, it could also lead to blindness. At Ticho Eye Associates in Chicago Ridge, IL, Tinley Park, IL, and Munster, IN, we offer several treatment options for cataracts. Our seasoned team of ophthalmologists has helped countless patients through state-of-the-art ocular care. To book an appointment, give our office a call today.
About Cataracts Reviews
"Five Stars - My daughter was born with congenital cataracts, and he has done a great job with her. He explains to us the steps are having to take, and is very good with information. We highly recommend him!"
- Anonymous /
Vitals /
Feb 05, 2016
"Doctor Ticho is by far one of the best eye specialists I have had the pleasure of working with. I am a 61 year old male with Macular degeneration & glaucoma, too include cataracts. He has a team of highly trained surgical specialists that deal with children, children's with special needs too adults. He is incredible and I am damned lucky to have him as my eye specialist!"
- J.H. /
Google /
Jan 13, 2021
"Had cataracts removed from my right eye. The left eye was done a month before and it was great. The right eye seems even better."
- G. /
Healthgrades /
Mar 15, 2021
"First I want to thank god for allowing my surgery and recovery to go smoothly, and without any complications. And secondly a huge thank you to Dr. Ticho, a month ago I was pretty much blind in both my eyes due to cataracts. Dr. Ticho answered all of my questions and made me feel extremely comfortable throughout my entire experience. I went in confident that he was more than capable of performing my surgery due to his constant reassurance and extensive explanation of what to expect. I am forever grateful to him and his stuff, whom were also very kind. They reached out to me both times after my surgery to see how I was doing and I am thankful. I would highly recommend Dr. Ticho if you're looking for a physician to help with your optical needs."
- T.F. /
Facebook /
Mar 29, 2021
"I have had both cataracts removed by Dr. Ticho and have had fantastic results..they are very thorough and the Tinleywoods surgical center has also been great...I would recommend Dr. Ticho to anyone...very good office."
- P.G. /
Facebook /
Nov 01, 2021
Previous
Next
Diagnosis and Treatment of cataracts
Cataracts are diagnosed with an in-depth eye exam. Once one of our ophthalmologists confirms the presence of cataracts, we will discuss your treatment options. Treatment will vary per patient as it's based on the degree of damage or cloudiness. For some patients, prescription glasses may be all they need to attain clear vision, but others may require cataract surgery. To learn more about the surgical procedures we offer for cataracts, we invite you to visit our cataract surgery page.
What causes cataracts?
In many cases, cataracts are caused by aging or damage to the natural lens of the eye. However, some genetic disorders can also increase the likelihood of developing cataracts. Additionally, cataracts may be caused by other eye conditions, previous eye surgery, or diabetes.
What happens when cataracts are left untreated?
If a cataract is left untreated, it will only begin to become worse and impact your vision much more severely. In fact, if nothing is done about cataracts for long enough, it can even lead to complete blindness.
How much recovery is needed after cataract surgery?
Typically, most of our patients require only 1 – 3 days of rest after the procedure. However, simple hobbies, such as reading, writing, watching TV, and walking, are perfectly fine as soon as you feel ready for them.
Clear Vision After Cataracts
If you live in Chicago Ridge, IL, Tinley Park, IL, or Munster, IN, we invite you to call Ticho Eye Associates for all your vision care needs, especially if you are over the age of 40 and have noticed changes in your vision. Detecting cataracts and other eye diseases in their early stages are key to preserving your vision and preventing further damage. With an accurate diagnosis, we can establish a customized treatment plan to manage your condition.
Related Procedures
Related Posts