About Cataract Lens Options
Approximately two million people have cataract surgery every year. There are actually several procedures to choose from, but each one involves removing the cataract and replacing it with an artificial lens or intraocular lens (IOL). At Ticho Eye Associates, we offer multiple IOLs to suit the diverse needs of our clients. If you live in Chicago Ridge, IL, Tinley Park, IL, or Munster, IN, give our practice a call to learn more about the different cataract lenses we offer. Our skilled team of ophthalmologists is here to walk you through all your options to find the best fit for your lifestyle and vision impairment.
Reviews
"Had a great experience with the whole office staff from front desk to the tech, & Dr. Koutnik was very nice, & informative! They are very professional & patient with the young kids! I found our family eye doctor!! ☺️"
- L.S. /
Google /
Jun 17, 2021
"Had two eye surgeries with Dr. Ticho. He and the staff are absolutely wonderful! Would highly recommend!"
- J.M. /
Facebook /
May 12, 2021
"Outstanding care We came in under an emergency situation. Hadnt't slept and the in-take person brought us coffee. From the tech to the ophthalmologist, they were caring and explained instructions very clearly to my aging memory- deficient senior parent. They were also very thorough in conducting tests. I would highly recommend this office."
- J.O. /
Google /
Nov 18, 2022
"Best place to go for eye care, very clean & professional :)"
- A.J. /
Google /
Sep 21, 2022
"Nicole was wonderful in Munster, the office is gorgeous, the staff is so professional and nice, Dr Ticho as always is the best! Thank you!"
- A.G. /
Google /
Aug 27, 2022
Previous
Next
Who is a Candidate for Cataract Lenses?
Generally, if you've been diagnosed with cataracts, then you may be a good candidate for an artificial lens. Ticho Eye Associates will perform a thorough health assessment to determine your candidacy for IOLs. Our ophthalmologists can assess your vision and any underlying medical conditions before recommending a particular lens. We also take into account your age and lifestyle factors. Patients will be given a detailed set of pre-and post-operative instructions to ensure the best possible outcomes from their procedure.
Types of intraocular lenses (IOLs)
Intraocular lenses (IOLs) are artificial lenses that are surgically placed on the eye once a cataract has been removed. Ticho Eye Associates is pleased to offer the following lenses:
Monofocal IOLs: These types of IOLs improve distance vision after cataract surgery
Multifocal IOLs: These lenses correct vision range at near, intermediate, and distance
Toric IOLs: These implants sharpen distance vision for patients with high astigmatism
AcrySof® IQ ReSTOR® IOLs: These devices improve vision at all distances and can be worn during the day or night without the need for reading glasses or bifocals
AcrySof® IQ Vivity™: The Vivity lenses are ideal for patients with corneal astigmatism to provide extended intermediate vision
PanOptix® IOLs: This brand of intraocular lenses is trifocal, allowing patients to experience three clear vision distances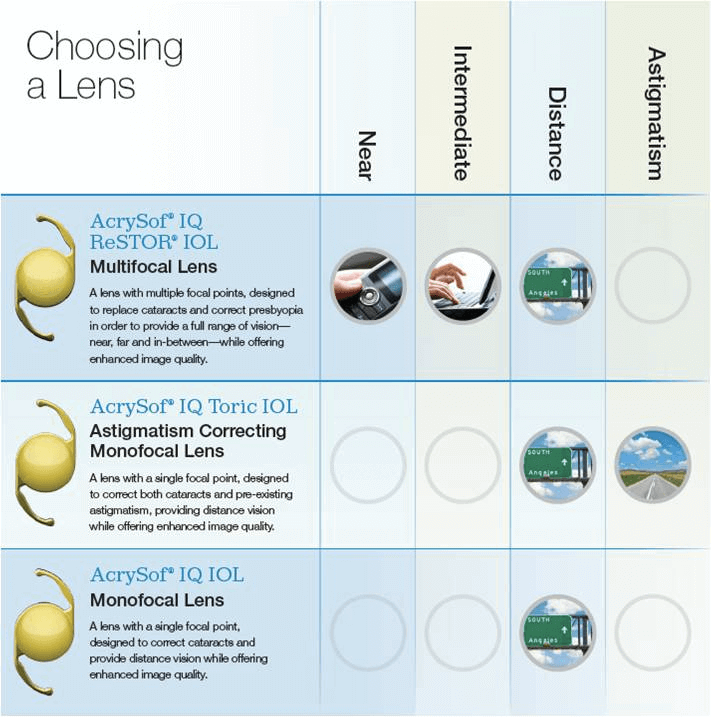 Cataract surgery: IOL Options
Ticho Eye Associates is proud to be serving the local communities of Chicago Ridge, IL, Tinley Park, IL, and Munster, IN. If you are preparing for cataract surgery and want to learn more about your lens implant options, contact our eye care center today. Our talented team of ophthalmologists can discuss all the benefits of intraocular lenses and which one may provide you with the best vision.
Related Procedures
Related Post