About Cataract Lens Options
Approximately two million people have cataract surgery every year. There are actually several procedures to choose from, but each one involves removing the cataract and replacing it with an artificial lens or intraocular lens (IOL). At Ticho Eye Associates, we offer multiple IOLs to suit the diverse needs of our clients. If you live in Chicago Ridge, IL, Tinley Park, IL, or Munster, IN, give our practice a call to learn more about the different cataract lenses we offer. Our skilled team of ophthalmologists is here to walk you through all your options to find the best fit for your lifestyle and vision impairment.
Reviews
"The staff were very welcoming. The process was nice and smooth."
- S.A. /
Facebook /
Dec 09, 2020
"Ticho Eye Associates provide the most thorough eye exam for children. I highly recommend them!"
- T.B. /
Facebook /
Nov 19, 2020
"Great service!! The customer care is lovely!"
- M.C. /
Facebook /
Nov 18, 2020
"we have been coming here for years. great doctors and staff!"
- F.L. /
Facebook /
Nov 10, 2020
"Everyone works there are really friendly"
- J.I. /
Facebook /
Nov 10, 2020
Previous
Next
Types of intraocular lenses (IOLs)
Intraocular lenses (IOLs) are artificial lenses that are surgically placed on the eye once a cataract has been removed. Ticho Eye Associates is pleased to offer the following lenses:
Monofocal IOLs: These type of IOLs improve distance vision after cataract surgery
Multifocal IOLs: These lenses correct vision range at near, intermediate, and distance
Toric IOLs: These implants sharpen distance vision for patients with high astigmatism
AcrySof® IQ ReSTOR® IOLs: These devices improve vision at all distances and can be worn during the day or night without the need for reading glasses or bifocals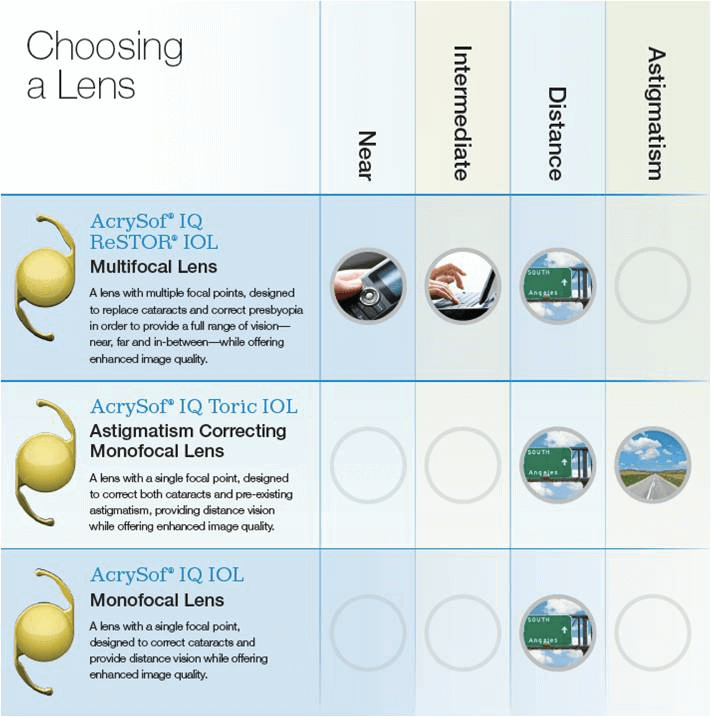 Cataract surgery: IOL Options
Ticho Eye Associates is proud to be serving the local communities of Chicago Ridge, IL, Tinley Park, IL, and Munster, IN. If you are preparing for cataract surgery and want to learn more about your lens implant options, contact our eye care center today. Our talented team of ophthalmologists can discuss all the benefits of intraocular lenses and which one may provide you with the best vision.
Related Procedures