Aren't the Other Kids Going to Make Fun of My Child's Patch?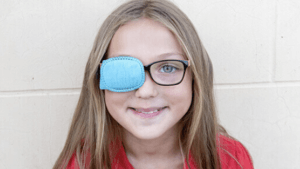 Patching the dominant (better-seeing) eye is a time-honored method of treating amblyopia, a major cause of childhood vision loss. By forcing the child's brain to "pay attention" to the "weaker" eye, this vision loss can be reversed, particularly if treatment is started early enough.
Parents are often concerned about the social and psychological impact of patching on their child. Occasionally, this fear may translate into reduced compliance with the advised patching, and consequently, worse visual results.
A recent Portuguese study (JAAPOS, 2019;23:339) compared the anxiety, depression, stress, and self-perceived quality of life between amblyopia children wearing only glasses, and those wearing glasses and patching. The study compared the results of two different types of questionnaires in 79 amblyopia children with a mean age of 12. The study authors found no significant difference in the psychosocial status between the two groups, whether the children were under or over 6 years of age at the time when amblyopia treatment had been initiated.
Interestingly, the researchers also measured the attitudes of the children's caregivers, via four adult-specific questionnaires; again, the caregivers' self-assessment of anxiety, depression, stress, and quality of life was not significantly different, whether or not their child wore a patch in addition to glasses.
The bottom line? Possibly patching is not as traumatic of an experience for children as their parents expect — or maybe the Portuguese are more laid back than Americans?
Benjamin H. Ticho, MD