Dr. Benjamin Ticho Working With European Ophthalmology Academy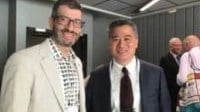 Culminating several years of research, Dr. Benjamin Ticho was invited to present results of research on the correction of children with crossed eyes (strabismus) at the recent European Ophthalmological Society conference held in Nice, France from June 12-15.
While serving as faculty at the 2019 European Ophthalmology Society meeting in Nice, France, Dr. Benjamin Ticho met with members of the American Academy of Ophthalmology delegation, including Secretary for International Affairs, Dr. Paul Chen and senior Academy executives, Drs. David Parks and George Williams.
Among the Academy initiatives promoted at the meeting was the new Museum of the Eye, to be opened at Academy headquarters in San Francisco later this year. The museum will be open to the public and will feature the latest technological means of promoting ophthalmic education.
The research paper, entitled "Full vs Partial Hyperopic Correction for Acquired Childhood Esotropia" also featured Ticho Eye Associates' orthoptist Micaela Quebbemann, Together with co-authors from UCLA and Ohio, the study compared two techniques of using glasses for children with new eye crossing between the ages of 1 and 7 years old.
This was the first multi-center, prospective, randomized, masked study to assess the question of how to choose the best glasses prescription to use in young children with esotropia and moderate to high amounts of far-sightedness (hyperopia).
The study results suggest that, over a three month period, slightly lower strength glasses may be equally beneficial to thicker glasses in controlling eye crossing. Further research is required to determine whether such results will hold true over longer periods.