New Treatment for Thyroid Eye Disease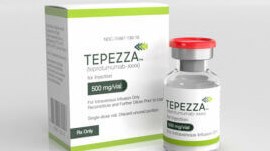 Thyroid eye disease (TED, also known as Graves' disease) is an autoimmune inflammatory disease, sometimes causing red or bulging eyes, sometimes causing double or reduced vision.
While often associated with an overactive thyroid, some TED patients have normal thyroid function.
Some TEA patients have mild changes – slight eyelid retraction or puffiness, for example. However, in its full presentation, TED can cause tremendous difficulties. Social interaction may become problematic due to the double vision, unusual appearance, or plain discomfort of the disease.
In the past, treatment options were limited to relatively ineffective medical therapies such as corticosteroids, or surgically managing the structural complications of TED.
Just this year, however, an exciting new option for treating TED during the active inflammatory phase has become available in the United States. Teprotumubab (marketed as Tepezza) blocks the insulin-like growth factor-1 receptor, the key mediator of TED.
For certain TED patients, Tepezza may be able to reduce double vision and eye bulging without necessarily relying on steroid use. Tepezza is approved for use during the inflammatory stage of TED, and should be used with caution in patients with diabetes or inflammatory bowel disease. Unfortunately, the cost of the medication currently can be as high as $14,000 per treatment.
Ticho Eye Associates Oculoplastic specialistLaura Sanders, MD, recently completed specialized training regarding this new medication option. Sanders and strabismus specialist Benjamin Ticho MD have over 40 years of combined experience treating the various ocularcomplications of TED.